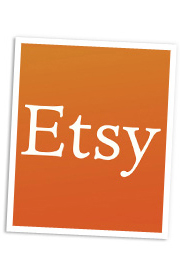 Best of Etsy
CASUAL VASES
FOR YOUR HOME
Etsy is an online marketplace where artisans from all over the world sell handmade goods and crafts. You can find anything from paper goods to clothing. Each week we're combing through the shopsto find the best of Etsy. This week we bring you stunning casual vases.
Distressed Mason jars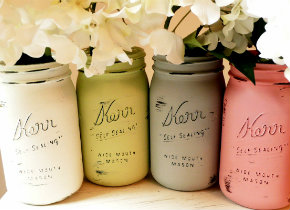 Rustic vases such as these
distressed Mason jars
from
Beach Blues Home Decor
(also on
Facebook
) are a charming way to give your home a relaxed, welcoming vibe. Each jar is made to order, so you will always get something truly unique. And they come in a wide variety of colours, so you can pick the set that works best in your home. Pint-size jars are also available if you want something a little smaller. Add a pop of cool colour to your home with this beautiful set!
Sun and sky vases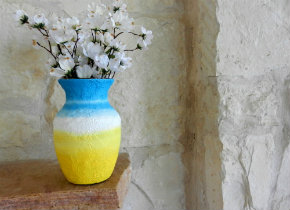 When you live in Canada, you're bound to have to deal with a fair amount of bad-weather days. But they'll seem a little bit brighter when you have this
sun- and sky-inspired vase
by
Carriage Oak Cottage
(also on
Facebook
) sitting in your kitchen, hallway or living room. The shop also offers vases with the same rock-solid cement and stucco surface but painted in a variety of other vibrant colours.
Light bulb hanging vases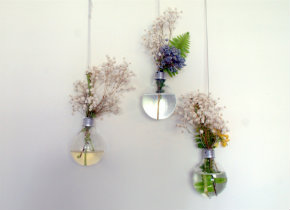 Thought vases have to sit on a table, shelf or countertop? Not these stunning
hanging light bulb vases
from
Chiffon Aerer
(also on
Facebook
). They're simple, fresh and chic. Hang them anywhere inside or outside your home for a relaxed yet elegant touch.
Wine bottle wall vases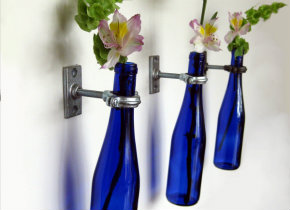 Would you like more floral accents but have run out of surface space? Not a problem with these
wine bottle wall vases
from
Great Bottles of Fire
(also on
Facebook
). They'll add a beautiful pop of colour to that empty wall that's been bothering you. The look is also done with coke bottles if you want something a little more casual.
More on Etsy
Top Canadian kids' shops on Etsy
Your guide to shopping on Etsy
5 Canadian jewellery shops on Etsy we love